Review: Fiio FH7 a Flagship 3-in-1 IEM Unlike Any Other
Rob Stumpf
The Fiio FH7 is the cream of the crop IEM for a 12-year-old Chinese electronics manufacturer that needs no introduction.
Still, we'll give them one. Since springing to life in 2007, Fiio has long-since made a name for itself in the HiFi community by creating fantastic product offerings since its infancy. I'd even go as far as saying that it helped to make the hobby affordable for many who would have otherwise written it off as "just expensive headphone stuff".
Recently, Fiio has started concentrating its efforts away from just portable Amps and DACs and more towards those little speakers that deliver sounds to your ears. Its latest flagship offering, the FH7, is a lesson for all other earphone manufacturers: watch out.
First Impressions
From the second I unwrapped the FH7 for their time in front of my camera, I knew I had to listen to them. The premium construction, elegant feel, and box full of accessories was extremely impressive.
After snapping some photos, I sat down at my desk to begin editing and placed the IEMs into my ear – and I was blown away. The fullness, the clarity, the extension… these will be the endgame IEM for many, many people.
When you know, you know. And soon you will too.
Construction
Fit and Finish
Meet the TriShell. That's Fiio's name for the seemingly oceanic-inspired design of the IEM's all-metal structure. Its tri-pointed shape contours perfectly with the human ear and fits comfortably nested in the canal. Top it off with some foam tips and you'll have near-perfect sealing with comfort to match.
Make no mistake, the Fiio FH7 has an extremely premium feel, as it should. The body and face are both machined from an aluminum magnesium alloy and has some heft. The top of its shell has a very familiar wave-like pattern similar to its little brother, the FH5. Both the face and body are anodized in a matte black finish with a polished rose gold ring to break up the monotony.
Two short silver nozzles are planted into your ears and feel to be an appropriate length to keep the IEM planted without being obtrusive. At the very end of the nozzles are swappable filters which give the IEM an advantage over the competition (and is something which we will get into a bit later).
A color-coded MMCX connector rises from the shell onto a short pedestal where the cable will connect. Perhaps it is moved further from the shell to add comfort or make room for the five drivers which sit inside each earphone.
Cable
The Fiio FH7 comes pre-packaged with a beautifully braided 8-core Litz cable that measures out to be just under four feet long and is extremely beefy. In fact, its thickness also helps to prevent the cable from developing any memory when sitting in storage and keeps tangles at bay.
Its jacket is pellucid, revealing the silver coated copper stands woven within each core. An aluminum y-split barrel sits about chest height with a matching adjustment slider.
Like the MMCX connectors on the IEMs, the male-end on the cable is color matched with a red or blue collar, making it easy to differentiate orientation before placing it into your ear.
Termination is done with a reinforced right-angle 3.5mm TRS jack and is unbalanced.
Packaging
Fiio knocked it out of the park with the packaging. The FH7s are beautifully nested inside a book-like enclosure that sits in the soft touch outer shell.
When opening the cover, you're immediately greeted with the earphones hooked up to their corresponding cables. In the bottom right sits the small capsule which holds the swappable filters, and a small Apple-like tag at the bottom indicates that there is more to be seen underneath.
Tug on ticket and reveal an entire layer of extra. A plethora of tips to choose from, two cases (a beautiful sprung and magnetized stationary faux-leather blue case, plus a portable soft case stuffed inside), a small cleaning brush, and a cable organizer.
Sound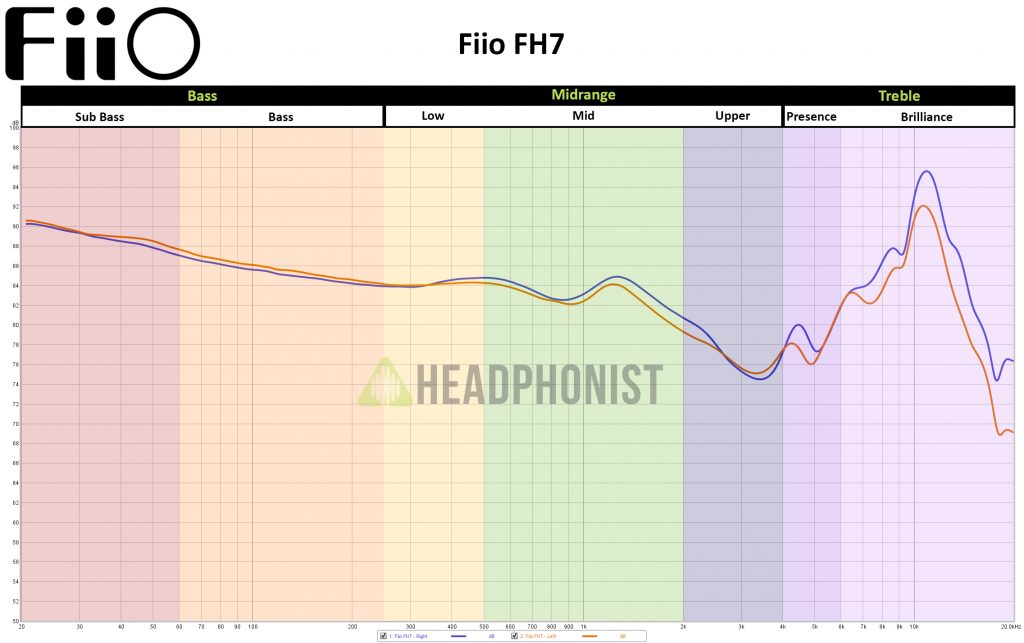 If there are your first wired IEMs purchased for more than $200, you're in for a treat. The FH7 packs an extremely impressive amount of sound into these tiny little earphones, and I can't wait to tell you what to expect.
Lows are beautifully punch and clean. The detail is incredible and the messy sub-bass of the FH5 is tamed without sacrificing on hard-hitting lows.
Bass is fast and responsive. It moves from sub-bass to mid-bass, and even lower-mids with extreme precision, though extension leaves just a little bit to be desired with some deep-dipping EDM tracks – See: Dodge & Fuski's Bring it Back (Genre: Dubstep, EDM).
It's evident that Fiio tuned the dynamic driver even further than its predecessor. Fiio says that it is able to make such deep-hitting lows by using a proprietary design technology it calls "S.Turbo v2.0". Like the FH5, the FH7 was designed with an internal system of turbine-inspired tubes to improve low-end response and enhance detail. Ultimately this filters out unnecessary mids and highs so that the dynamic driver is able to handoff that workload to the BA drivers.
Moving on to the mids; a small bit of warmth can be observed when listening, but don't expect the FH7 to be like listening to your favorite track with a tube amp. Instead, Fiio seems to have chosen to focus on clarity. Details of tracks that I hadn't picked up with other headphones became evident and separated from the monotony that is a track mix.
I'm waging that this has something to do with the balanced armature drivers being responsible for delivering more mid-range sound than the dynamic driver.
Speaking of the BA drivers, we'll move onto the highs. As I mentioned earlier, clarity appears to be a huge point that Fiio designed these earphones around. The highs are no exception, coming through crisp, clear, and detailed.
That's not to say that they're overly bright and sibilant either. The FH7 isn't tack-sharp to the point that it's fatiguing, but being able to pinpoint specific notes and instruments is a huge plus that these achieve with ease.
Here's where it gets interesting – the sounds I described above? Those can change, and quite easily thanks to Fiio's included swappable filters.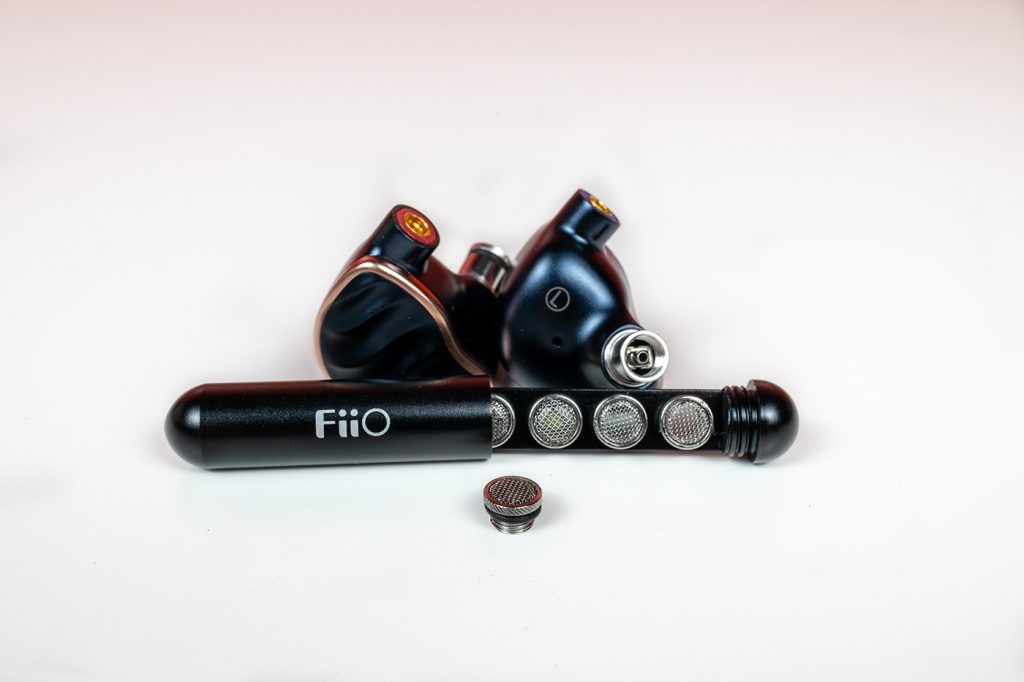 Nested nearly inside a small capsule are two extra sets of filters, each with a different colored o-ring to designate its purpose.
Black: Reference (Balanced)
Green: Detailed treble
Red: Dynamic bass
Equipped on the unit by default are the reference filters, but by swapping on any of the others, you'll have an entirely different listening experience – seriously.
When testing out the Fiio FH7, I was able to place a different filter in each ear and was amazed that this wasn't just a gimmick. Simply pop off a tip and unscrew the filter from the nozzle to expose one of the balanced armature drivers underneath. Once a new filter is installed, the sound signature of the IEM changes drastically.
How can an IEM so customizable and fulfilling be priced into a sub-$500 price bracket?
And to top it all off, Fiio includes an additional six different types of tips in the box (15 pairs in total), each one with its intended use case written right on the packaging. That means if your ears prefere silicone, use them. If you like the sealing nature of foam, those are included as well. And if you're one of the many people in the world who like SpinFit tips, three pairs are included as well.
Each of these can also fine-tune the listening experience to make it even more customizable. In total, there are 18 different listening experiences in one single box. That's a hell of a lot of value if you ask me.
Soundstage
Most IEMs that you'll listen to will display the same pattern of a slightly enlarged soundstage that is wider than it is deep.
The FH7? Not so much.
Well-rounded is more than just a term to describe the performance, it's also proper to describe the nice even "ball" that the FH7 produces – even sound across all axes.
Don't get me wrong, they're nothing like a set of good open back headphones, but close your eyes while listening to Venetian Snare's Öngyilkos Vasárnap (Genre: IDM, DnB) and you're able to feel instrumentation and sounds creep in every direction at varying points.
Clarity and Detail
Fiio has clearly put an emphasis on tuning the FH7 for exceptional clarity. This is likely due to the way that its dynamic driver sits nestled behind all other sounds thanks to the turbine-inspired channels that acoustically filter out mids and highs.
Separation of different instruments and tones are easy to make out. The scratching of a pen on paper, the sound as a finger slides across a heavy gauged guitar string – all of this is finely textured and audible.
Hear What I Hear
As always, you can listen to the Spotify playlist we use to test all of our headphones on the sidebar, or by clicking here.
Portability, Comfort, and Use
I haven't found a single use where I couldn't enjoy the Fiio FH7s. They're more than competent performers at the office and keep me from getting strange looks when wearing large over-ear cans.
Commuting or hitting the gym? No problem. The included foam tips don't just provide superior sound isolation, they also keep the IEMs planted in your ears.
Comfort is a non-issue, as these are quite easy to wear for extended periods of time without fit, weight, or music-induced fatigue.
Nerd Notes
Drivers: Hybrid

1x 13.6mm beryllium dynamic driver
4x Knowles balanced armature drivers

Style: In-Ear, Wrap-Around
Weight: 0.3oz (per side, without cables) (8.15g)
Sensitivity: 111 dB
Impedance: 16 ohms
Plug: MMCX (Detachable)
Cable: 4-foot (1.2m), 8-wire braided, terminated with a right-angle 3.5mm connector
Final Thoughts
Fiio did a great thing by introducing the world to the FH7. These IEMs are more than anyone could ask for in the sub $500 range and sound incredible.
The customizable nature of the FH7 make them absolutely worth the asking price – if you don't like the stock sound, simply swap out a filter and tips to completely change the signature.
I would personally pit these against the Campfire Audio Andromeda in terms of sound quality for less than half the price.
Where to Buy
At the time of writing, the Fiio FH7 are available on Amazon for $449. Used examples are currently selling for around $380.
Bass

Mids

Trebel

Sound Stage

Detail/Clarity

Build Quality

Value
Should you buy it?
Folks, this is it. I've listened to dozens of IEMs both cheap and expensive, and these have been the first to truly spoil the magic of in-ear listening for me. If you buy only one set of high-end IEMs, let it be these.
Pros
Deep and impactful bass
Extremely detailed
One of the widest soundstages of any IEMs I've owned
Sound is customizable via swappable filters
Superb and beautiful construction
Many tips and accessories included
Value
Cons
Housing is a tad heavy
Make take some time to tune to your preference
Large – fit may not be for everyone
Expensive for new buyers