Review: KBEar KS2 – For the Bass Lovers
Rob Stumpf
When I first saw the "KBEAR" branding, I pictured a bear wearing earphones. But it's not an animal—KB Ear (as it's actually styled) is a Chinese earphone maker who has launched a number of entry-level and mid-fi choices to the in-ear market in recent months.
The KS2 in particular is one of the most entry-level IEMs that KBEar offers at just $25, so being able to stack it up against other flavor-of-the-month IEMs (See BLON BL-03 and KZ ZS10) is going to be a treat.
Let's have a listen.
Disclosure: KBEar did send us this unit as a sample in exchange for our review. As always, our views aren't swayed by these types of things. Now, we have to apologize to KBEar for the promptness of this review—this was on our list to cover last October but sadly did not happen due to unforeseen circumstances. But better late then never, and we're glad to have had the opportunity to touch on such an interesting set of IEMs.
First Impressions
Have you ever been in a candle store? You lift up the lid to a jar, give the waxy glob a big whiff and then move on to the next. Between smells, it gets hard to determine if you really like a smell, or if it is just a reflection of the last jar.
These IEMs are exactly like that, except there's no ear-equivalent to coffee that you can sniff to "reset" your senses. Here's why:
Chi-Fi IEMs are in a difficult spot right now. There are so many brands catering to so many different kinds of customers. Some tune to a flat frequency response, others try their best to match the Harman target, and many are flocking to V-Shaped sound to bring in new listeners. The KS2 certainly embodies the V-Shaped approach, stuffing in a pair of drivers (one dynamic and one balanced armature) to really up the ante.
Between the narrow sound stage, the extreme V-signature, and the muddy tonality, the KS2 feels like six earphones in one, and for some, that's going to be quite an interesting combination.
Construction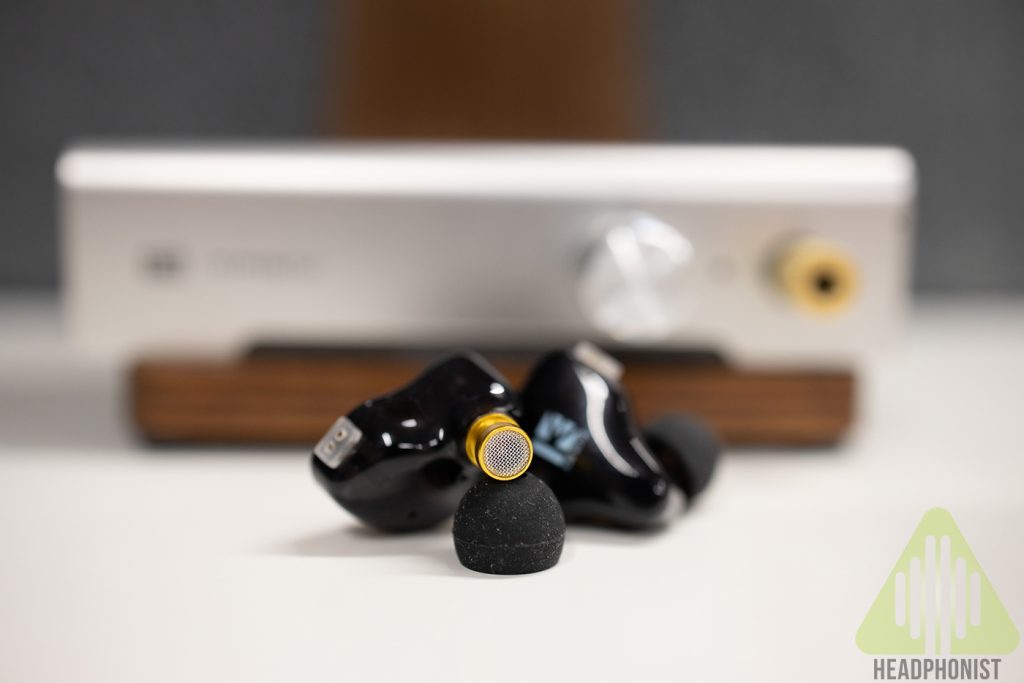 Fit and Finish
The IEM is composed of a lightweight polycarbonate shell that weighs around 3.75 grams per IEM. For comparison, all-metal shelled earphones like the Fiio FH7 weigh more than twice this.
A glossy black finish gives a minimalistic approach to the final product, though the bright white KBEar logo is quite present on the outer shell. An aluminum-alloy nozzle with metal mesh filter supports the tips. Believe it or not, the simple finish was something I was looking forward to after spending a lot of time with various flashy KZ IEMs.
Normally, glossy finishes get scratched up quite easily, especially when they don't come with any sort of carrying case or pouch to protect them. So to test if the KBEar KS2s would suffer the same fate, I threw the IEMs in my pocket with a set of keys and shuffled around for an afternoon. As expected, the shell did suffer some scratches, but nothing that would make me suspect to see long-term flaking of the finish.
You can also get the KS2 in a dark translucent green.
Cable
The KS2 gets a lot of gripe for its cable, and I can see why: it's expectedly thin and cheap. The brown (almost copper) colored cable spans almost four feet, with one end terminated in a set of 2-pin connectors, and the other in a standard 90-degree 3.5mm TRS jack.
My largest issue with the cable is its disposition to tangle, which would happen quite often when unraveling it. If you're the type of person to secure their cables with hook-and-loop connectors, then I would suspect this wouldn't be an issue for you, but the wound-round-the-finger types may get quite disgruntled.
Packaging
No-frills packaging is the best way to describe the KS2's delivery. Everything is included to get you started, so as long as your source has a 3.5mm connector. I found the pre-installed tips to be sized fine for my ears, but your results may vary.
What's in the box:
Pair of KBEar KS2 IEMs
Four pairs of assorted sized tips (one pre-installed)
Cable
Documentation
Sound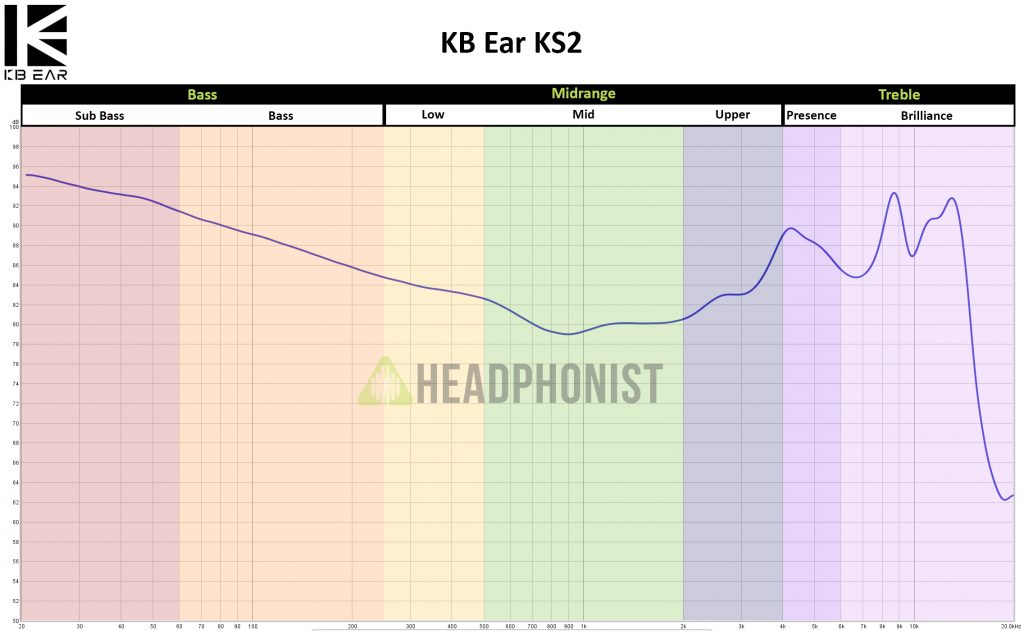 I'll admit—V-shaped headphones are probably my favorite. I enjoy elevated bass and detailed treble; those things make listening fun. There's certainly a time and place for hearing things as the producer intended, but when you're buying any headphone with a sound profile like the KS2, you know that you're not going to be getting that.
Out of the box, I immediately noticed the KS2's ability to produce fantastic bass. Sub-bass in particular is quite present and is given priority in any track which makes this a particularly great track for bass-heavy EDM and hip-hop genres. In fact, the KS2 even outperforms the low-end response delivered by the Blon BL-03, which I previously praised for its value.
Unfortunately, the elevated presence of the bass also muddies the track to an extreme amount—more on this later when we talk clarity. Long drawn-out bass is quite impactful, however, short kicks lack prompt response.
Mids are recessed with the largest dip occurring right around 900 Hz. I didn't find this to be an issue with song like Tristam's Questions (Genre: Dance) that separate elements of the track enough to avoid the KS2's muddiness, but more technical songs like Inferno by Polyphia (Genre: Progressive metal) are difficult to enjoy as guitar riffs and drums are tightly intertwined.
Now we get back to somewhere that the KS2 exceeds at: highs. This is thanks to the tiny balanced armature driver that KBEar has stuffed into the stem of the earphone (hence the "hybrid" designation). Detail quite snappy, making tracks that blend vocals with high-frequency acoustics like Lindemann's Ach So Gern (Genre: Industrial metal) shine, however, I wouldn't exactly call it precise.
Folks, this is a $25 V-Shaped IEM. I was going into this expecting a lot less than I experienced, meaning I'm quite impressed with the sound signature that the KS2 had to offer. I've heard a lot worse from IEMs more than quadruple the KBEar's price point.
Sound Stage, Clarity, and Detail
I've read some reviews which claim that the KS2 have enormous sound stage, and I admit that I went into listening expecting that. I was fairly disappointed given the hype, as I'd describe the KS2 as being much more intimate and in-your-face than seated in a room with sound playing around you. Depth is almost nonexistent.
I did touch on imaging a bit earlier, and the term "muddy" is still best to describe it. Instrumentation is difficult to place outside of left and right channel, and the clashing of frequencies with the bass overly exaggerate the V-Shaped frequency response.
The first time something like this jumped out at me was when I was listening to Crown The Empire's 20/20 (Genre: Metalcore). Right at the minute mark the producer mixes some heavily processed backing vocals that are usually quite separated and spacey when listening on more expensive IEMs and over-ears. The KS2 simply doesn't achieve this, which isn't a deal-breaker given the price, but is noticeable.
That being said, none of this makes the KS2 a bad pick. Remember that these are entry-level IEMs and are priced accordingly, so it might be as simple as finding the right genre (or even a particular album) to pair with the earphones.
Hear What I Hear
As always, you can listen to the Spotify playlist we use to test all of our headphones on the sidebar, or by clicking here.
Portability, Comfort, and Use
Lightweight, narrow, and easy to throw in your pocket—the KBEar KS2 is good for pretty much any on-the-go use. And with fairly minimal sound leakage, there's no place you can really go wrong with wearing them, from the office to to gym. Also, it's worth noting that although they don't have any noise cancellation functionality, the included tips and overall profile do a great job at isolating external sounds that you'd never notice.
These IEMs are incredibly easy to drive, so whether you're using the 3.5mm jack on your phone or a Fiio BTR5, expect to have utmost portability.
I did find them a bit fatiguing to use for long periods of time and often found myself eyeing up my collection of over-ears and more relaxed in-ear IEMs. This is more personal though, and was correct after moving to foam tips and applying a bit of equalization.
Nerd Notes
Drivers: Hybrid

1x 10mm composite diaphragm
1x Balanced armature driver

Style: In-Ear, Wrap-Around
Weight: 0.13oz (per side, without cables) (3.75g)
Sensitivity: 106 dB
Impedance: 16 ohms
Plug: 2-pin (Detachable)
Cable: 4-foot (1.2m), 4-wire braided, terminated with a right-angle 3.5mm connector
Final Thoughts
It's important to remember the price: these are $25 IEMs. The downside to the entry-level price point is that there are so many options to compare the KS2 against. The upside? It will be someone's cup of tea, and that someone might be you.
My biggest dig at the KS2 is that I feel like the earphones are having an identity crisis. The boosted bass feels like it should be marketed to those who love bass-heavy music, but the inability to separate instrumentation and similar frequencies completely destroys EDM and like genres. In my opinion, the best-served genre for the KS2 is, surprisingly, acoustic, or lo-fi electronic.
If you're a collector who loves Chi-Fi, picking up the KBEar KS2 should be on your shortlist. Its sound is quite unique and may change the way you feel about bass-heavy music through narrow IEMs.
Where to Buy
You can buy the KBear KS2 on Amazon. At the time of writing, you can nab it for $24.99 before the 12% coupon and free one-day shipping.
KBear also its products direct for purchase on Aliexpress (Use discount code "NEWKBEARKS2")
Bass

Mids

Trebel

Sound Stage

Detail/Clarity

Build Quality

Value
Should you buy it?
This is a tough one. For $25, you really can't go wrong with this earphone. For bass junkies and IEM collectors, it's a no-brainer, but for everyone else who might be looking for a single IEM to handle all of their needs, there are other options out there which are more balanced.
Pros
Incredible value
Great bass response for EDM and Hip-Hop/Rap tracks
Fit and Finish
Hybrid drivers
Cons
Elevated bass muddies sound signature
Cable is thin and tangles quite easily